Jasmine Diebelius
Lip Magic: Dark Lip Neutralization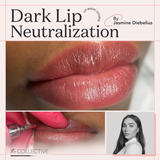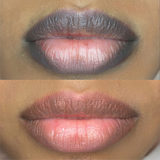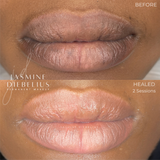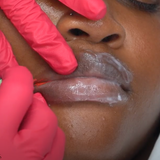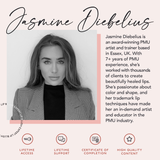 Jasmine Diebelius
Lip Magic: Dark Lip Neutralization
We're delighted to bring you this highly-requested, much-anticipated, advanced dark lip neutralization online course by Jasmine Diebelius. Watch Jasmine complete 4 live neutralization demos on a range of lip colors and skin types from lighter, warmer Fitzpatrick 4 lips to darker, cooler Fitzpatrick 5 and 6 lips. You'll see HD videos filmed from 3 angles so you can watch Jasmine's techniques up close, as if you were right there beside her. Learn how to choose the right neutralization color to bring your client's lips to their goal results in as little as 1-2 procedures.
Listen as Jasmine talks through dark lip neutralization procedure challenges; hyper/hypo-pigmentation, color basics, color selection, and pigment recommendations for each lip tissue type. Learn about pigment science, carrier agents, reading CI codes, and which machines and needles are best for dark lip procedures. Read Jasmine's case studies where she explains her methods, techniques, and her best tips and tricks to provide gorgeous healed results to melanin-rich clients.
*Recommended for artists with at least 1 year of machine experience.
Course Highlights:
95-page manual to download/print
Consultation cheat sheet
Neutralization cheat sheet
Color theory
Pigment science
Color choices for dark lip tissue
Machines & needle choices for dark lips
Techniques for dark lips
Fitz 4 Live Demo x 2
Fitz 5 Live Demo
Fitz 6 Live Demo
Quizzes throughout

What to Expect Upon Completion of This Course:
Increased confidence working on darker lips
How to choose the right color for your client's lip tissue
Using Jasmine's techniques and tool choices to minimize trauma
Ensure beautifully healed results in 1-2 procedures

Recommended for artists with at least 1 year of machine experience.
Jasmine features the following products in this course:
Jasmine is one of the most exciting artists in the industry right now, quickly gaining the respect of global industry experts for her beautifully delicate lip artwork and the vast knowledge she so generously shares. This course is ideal for artists who are experienced with PMU and want to take the next step in mastering the art of lip blushing.
Talk to product expert
Customer Reviews
Write a Review
Ask a Question
02/15/2023
Shannon K.

Canada
Fantastic course
I thought this course was amazing very informative and indepth. The color theory section was easy to understand and the examples that were laid out are very helpful to refer back to. I loved the pigment section and all the different options that were made available. I highly recommend this course to anyone with experience who wants to learn more about tattooing on dark lips !
09/30/2022
Tamia H.

Canada
Freakin Amazing!
This course by @jasminediebelius_pmu is freakin amazing. NEVER stop learning!!! Never Eva… if you are new to neutralization or never done it here's away to learn on your spare time. What was my take aways from this class!!! ⭐️ Neutralization can be done many different ways ⭐️ key colors to use per hues of the lips darkness per color wheel ⭐️ more CI Color Theory knowledge (stop guessing know what's makes up the pigment yall) ⭐️ it was almost like a Big Cheat Code on how to lighten lips with ease in 1 to 2 sessions with amazing results ⭐️ hypopigmentation or hyperpigmentation is normal during the course of healing and will go away I truly enjoyed this course and was so addicted I finished in 1 day my off day.
09/30/2022
Courtney E.

Canada
Highly recommend!
Firstly, I really enjoyed this online course! I was blown away with how immersive & informative this course was. Jasmine works in such a methodical manner that it's super easy to follow & understand. You are visually shown every detail. I have taken so much knowledge & feel confident to put my new dark lip neutralizing skills into practice. Highly recommend!