Tina Davies Professional
FADE Eyebrow Pigment Color Chart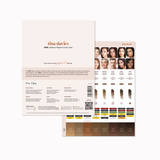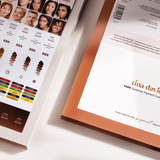 Tina Davies Professional
FADE Eyebrow Pigment Color Chart
This all-in-one color chart is your ultimate color guide tool - the perfect addition to your client consultations. Match any pigment from FADE's Eyebrow Pigment Collection to your client. With model references, detailed pigment descriptions, and swatches, color selection has never been easier.
Features: Light Warm Blonde, Light Neutral Blonde, Medium Warm Auburn, Medium Warm Brown, Medium Neutral Brown, Dark Warm Brown, Dark Neutral Brown, Deep Cool Brown
Models matched to pigment colors for easy matching
Detailed color information, including pigment temperature and CI breakdown
Fitzpatrick skin type suitability
Color swatches for in-person matching
This is your go-to color guide for FADE Eyebrow Pigment Collection. It's a wonderful tool to have during your client consultations – just hold the chart up against your client's forehead to envision which color will suit them the best! Plus, clients will love having a visual reference.
Talk to product expert