Tina Davies
I 💋 INK Envy Collection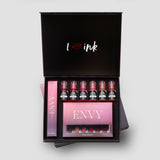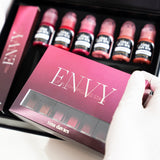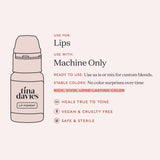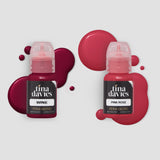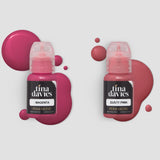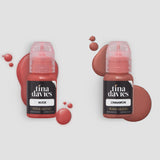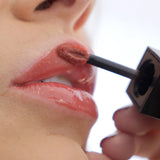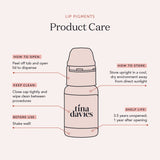 Tina Davies
I 💋 INK Envy Collection
From everyday nudes to bold berry tones, meet our Envy Lip Collection. These 6 fashionable pigments come with matching lip pencils and lip blush stains so that clients can test and try on colors before a procedure.
In the kit: 0.5 oz bottles of Wine, Pink Rose, Nude, Cinnamon, Dusty Pink, Magenta + 6 matching lip pencils, 6 matching lip blush stains, 10 disposable lip applicators, easy-to-use color chart
Skin tones: Fair, pink, beige, olive and caramel (Fitzpatrick 1-4)
Pigments, Aqua, Glycerin, Rosin, Hamamelis Virginiana, Isopropyl Alcohol, Benzyl Alcohol
Vegan
Cruelty-free
CTL certified
Sterilized by gamma radiation
Made in USA
CPNP registered
BVL registered
3.5-year shelf life unopened. 1 year once opened
Documents:
My goal was to redefine lip blushing. This modern palette of colors gives artists the ability to preview lip colors during consultations by using the blush stains and lip pencils. This flexibility allows us to build trust and confidence with our clients. TRY IT, DRAW IT, INK IT and watch your bookings grow.
Pigment Breakdown:
Wine: A bite of dark cherry. This intense burgundy, deep red/purple pigment results in a rich wine color. Fitzpatrick 2-4.
Pink Rose: A look inspired by spring blooms. This neutral-cool pigment is a popular pick for a vivid pink look. Fitzpatrick 1-4.
Magenta: Vibrant in magenta. Get a more traditional look with this best-selling cool pigment, resulting in a mid-toned berry pink, perfect for every occasion. Fitzpatrick 1-4.
Nude: Go-to nude. This neutral pigment is less pink than Dusty Pink and lighter than Cinnamon for a beautiful, soft, natural pinky-brown nude. Fitzpatrick 1-2.
Cinnamon: A dash of cinnamon. This neutral-warm pigment is casual and clean — results in a browny-pink nude look. Mix it or try it on its own. Fitzpatrick 1-4.
Dusty Pink: Delicately pink. This neutral pigment is our most popular lip shade, resulting in a super soft, understated pink tone. Fitzpatrick 1-3.
Talk to product expert
Expert Guide
Cinnamon
Dusty Pink
Flame
Magenta
Nude
Orange Coral
Peach
Perfect Pink
Pink Coral
Pink Rose
Soft Red
Wine
Cinnamon
Dusty Pink
Flame
Magenta
Nude
Orange Coral
Peach
Perfect Pink
Pink Coral
Pink Rose
Soft Red
Wine
Cinnamon
Dusty Pink
Flame
Magenta
Nude
Orange Coral
Peach
Perfect Pink
Pink Coral
Pink Rose
Soft Red
Wine
Cinnamon
Dusty Pink
Flame
Magenta
Nude
Orange Coral
Peach
Perfect Pink
Pink Coral
Pink Rose
Soft Red
Wine
Cinnamon
Dusty Pink
Flame
Magenta
Nude
Orange Coral
Peach
Perfect Pink
Pink Coral
Pink Rose
Soft Red
Wine
Cinnamon
Dusty Pink
Flame
Magenta
Nude
Orange Coral
Peach
Perfect Pink
Pink Coral
Pink Rose
Soft Red
Wine


































































Customer Reviews
Write a Review
Ask a Question