Tina Davies Professional
Best of Tina Davies Bundle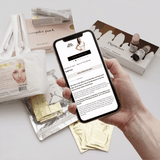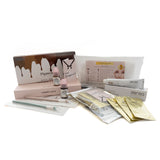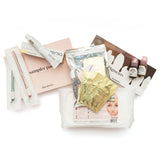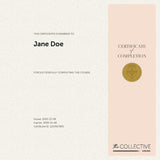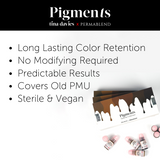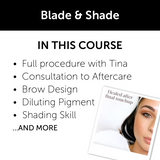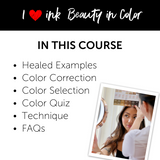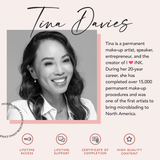 Tina Davies Professional
Best of Tina Davies Bundle
This bundle was created by Tina Davies to help artists level up their microblading skills by bundling high-quality education and products.
In this Bundle you will receive:
Bundle Includes:
Beauty in Color I❤️INK online course
Blade & Shade online course
Signature Microblade Sampler Pack
Tina Davies x Perma Blend I❤️INK Eyebrow Pigment Collection
Aftercare Healing Gel (10 sachets)
Zensa Numbing Cream
Disposable Sterile Kits Carton (10 kits)
Courses Include:
Certificate upon completion
Lifetime access to Blade & Shade and Beauty in Color I❤️INK Courses
This course is best suited for beginner to intermediate artists. This course does not and is not intended to replace hands-on training, we recommend you have fundamental training prior to taking this course.
If you're a newly-certified permanent makeup artist looking to invest in yourself and elevate your PMU skills, the Best of Tina Davies Bundle is for you.
In the Blade & Shade Video Tutorial, I demonstrate my signature Blade & Shade technique, which gives clients both the realism of fluffy, natural hair strokes and extra definition by adding manual shading.
In the Color Course Video Tutorial, I dispel confusion about color selection and give you the knowledge you need to confidently use both Tina Davies x Perma Blend I ❤️ INK Eyebrow and Sunset Collections
Talk to product expert
Customer Reviews
Write a Review
Ask a Question
09/17/2020
NAoko N.

Canada
Excellent course
I already have a knowledge of microblading and I have done it for few people. But I needed to learn more. I've been following Tina for awhile on SNS and since the class was on sale, I thought I give it a try. It's a great educational online courses for artists who already have previous microblading knowledge. The only thing I wish I could've learn more was shading. There wasn't much about it. Other wise, I definitely recommend you to take this online course. I'd hope to take a live lesson from Tina one day.
02/17/2020
June N.

Canada
Very useful course and high quality products
The pro silk pen is very good quality (I got it as a gift from Tina with purchase and I loved it so much and I am going to purchase more) and it keeps the strokes on the brow without fading by the numb cream. I can tell the difference when I sharpen it, it's very different from the one you purchased online. I love Tina's way of doing strokes on her work, it looks very natural and not too dark unlike the others who did it either too dark or too framed look. The color course is very useful when you start using this line as not too many brand will offer this class and you need to trial and error and I really hate that way. It makes me more confident in using their products. It's all EOS certified and it's worth the money to spend on the accessories that won't cause any sanitizing issues. I love everything Tina Davies carry, I will recommend to everyone who wants to start microblading.