Tina Davies Canada
Tones of Perma Blend Series
Tina Davies Canada
Tones of Perma Blend Series
Pigments, Aqua, Glycerin, Rosin, Hamamelis Virginiana, Isopropyl Alcohol, Benzyl Alcohol
Vegan
Cruelty-free
CTL certified
Sterilized by gamma radiation
Made in USA
CPNP registered
BVL registered
3-year shelf life unopened. 1 year once opened
Store upright in a cool, dry environment away from direct sunlight
Pigments, Aqua, Glycerin, Rosin, Hamamelis Virginiana, Isopropyl Alcohol, Benzyl Alcohol
Vegan
Cruelty-free
CTL certified
Sterilized by gamma radiation
Made in USA
CPNP registered
BVL registered
3-year shelf life unopened. 1 year once opened
Store upright in a cool, dry environment away from direct sunlight
Pigments, Aqua, Glycerin, Rosin, Hamamelis Virginiana, Isopropyl Alcohol, Benzyl Alcohol
Vegan
Cruelty-free
CTL certified
Sterilized by gamma radiation
Made in USA
CPNP registered
BVL registered
3-year shelf life unopened. 1 year once opened
Store upright in a cool, dry environment away from direct sunlight
Shake well before use
Mix and modify to create custom shades
Peel off tab and open lid to dispense
Mix to create the perfect shade
Apply clear tape to label for efficient disinfection between procedures
Shake well before use
Mix and modify to create custom shades
Peel off tab and open lid to dispense
Mix to create the perfect shade
Apply clear tape to label for efficient disinfection between procedures
Shake well before use
Mix and modify to create custom shades
Peel off tab and open lid to dispense
Mix to create the perfect shade
Apply clear tape to label for efficient disinfection between procedures
Talk to product expert
Customer Reviews
Write a Review
Ask a Question
01/03/2022
Anna B.

Canada
THANK YOU
IMMACULATE experience! I'm new to the PMU industry and this was my first order. I need to express this. Everything from shipping, to response time, and the quality of these products. I can't wait to use these on my future clients! I also love how simple it is. Especially being a beginner, this helps building familiarity with pigments and fitzpatrick scale I can't wait to do a draw down
02/03/2021
Nathaly S.

United States
Beautiful colors
Love the pigments they have the best shades for the 3-4 Fitzpatrick scale! Really does match with everyonw how it should!. I love.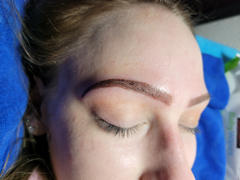 04/16/2020
CLAUDE N.

United States
Favorite brand
Beautiful colors and retention great.